Six Flags Magic Mountain
Viper Coaster Ride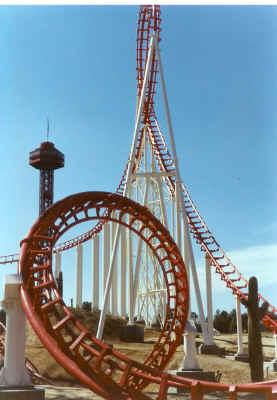 Gorian has provided geotechnical engineering services during the design and construction of many new rides and attractions at Six Flags Magic Mountain since the early 1970ís. Faster and taller coaster rides require an in depth understanding of deep foundation systems to resist very high lateral loads. The rolling hillside terrain of the park enhances the challenges for each new attraction. A team-like relationship between the parkís engineering division, structural engineer and civil engineer have made each new attraction at the park a great experience to be a part of.
An example project is the mega-coaster Viper. Viper was completed in 1990 and included more than 270 cast-in-place reinforced concrete pile foundations to support 3,830 feet of track, including the world's tallest vertical loop at 140 feet, plus loops at 90 feet, 62 feet, a 40-foot-tall corkscrew, and a double barrel boomerang turn. Riders of this coaster turn upside down seven times and change elevation 16 times at speeds up to 70 mph. The coaster rails are supported at 170 bents, which experience up to 1,000,000 ft-lbs. of moment.
Geotechnical services included design recommendations for vertical and lateral pile capacity in a hillside terrain.

Construction observation, testing, and inspection services provided by our staff included field engineering observations, grading observation and testing, concrete testing, and special inspection of reinforced concrete and high strength bolting.