Childrens Hospital Los Angeles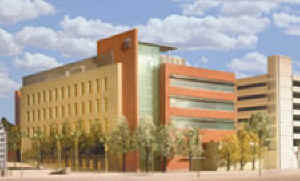 The recently completed five-story, 88,500-square foot Saban Research Institute building, at the corner of Vermont and Sunset will allow physician-scientists at the The Saban Research Institute of Childrens Hospital Los Angeles – already the largest and most productive pediatric research center in the western United States, and one of the few freestanding research facilities in the nation dedicated exclusively to children – to expand existing research programs and pursue new inquiries into such rapidly evolving areas as neuroscience and medical genetics to benefit children everywhere.
New underground parking facilities are covered with a beautifully landscaped Healing Garden, making it possible for the hospital to demolish the Santa Anita Building, and adjacent parking garage, to build a new seven-floor, 280-bed patient tower, wrapped around the H. Russell and Jeanne R. Smith Research Tower, both to meet and exceed the new seismic standards required by the state of California, as well as provide a nurturing, family-centered environment in which children and their families can heal and learn together.
---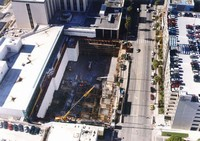 The first phase of the parking structure consists of four underground levels and a "Quiet Healing Garden" at the grade level. The main hospital lobby and entrance, currently located in the Marion and John E. Anderson Building
(constructed by R&S in 2001), which is adjacent to the new parking structure, will be expanded to accommodate the future New Inpatient Tower project.

Phase II of the parking structure will have a layout similar to Phase I and will connect the two parking structures together. After Phase II is complete, the existing parking structure will be demolished and a New Inpatient Tower will be constructed.