Beverly Canon Retail Center at 438 North Beverly Drive in the city of Beverly Hills
Gorian provided geotechnical services for this urban infill project located in Beverly Hills between North Beverly and Canon Drives, directly southwest of Little Santa Monica. This is a high-profile retail space for upscale tenants which fits into the existing urban fabric and sits above a four-level underground parking structure. An outdoor pedestrian circulation spine allows for second-level mid-block passage and provides seating for restaurants as well as outdoor merchandising opportunities for the flagship two-level tenants.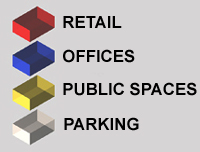 ---
The project involves a three story commercial/retail building constructed with the first level at street grade. The parking structure extends to a depth of 44 feet as measured from the bottom of the pile cap excavations. Foundation loads at the base of the parking structure are 20 kips per lineal foot for continuous perimeter wall footings and 1,000 kips for column loads.